Are You More Like Blaze the Cat or Amy Rose? (Sonic)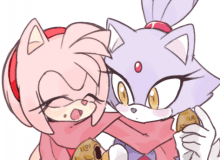 Me/K: Today, we will see, are you more like Amy Rose or Blaze the Cat? Man, COLD how SEGA don't give Blaze a last name, huh? XD WHY SGEA?! WHY????!!!!
Me/K: Who's your favorite Sonic female or male character? I can maybe make a quiz on them, it can even be a less known Sonic character, whatever y'all want. Anyway, ENJOY!!!
Created by: Sonic Tails Lf