Are you a good person? Are you evil?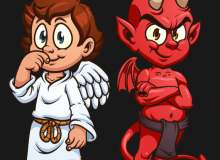 Are you the devil reincarnated or are you a true child of your God? Do you let people in front of you in traffic or do you aggressively cut them off? Well, you're going to find out in 10 easy steps.
You will have the answer to all of life's questions with this one simple quiz that's only 42 easy payments of your soul. You'll finish this quiz feeling refreshed and worry-free. It cured my crippling alcohol addiction!
Created by: Amy