Are you a Caleo Quizmaster?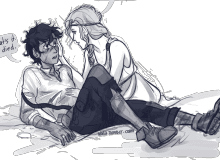 See how well you know one of the best ships from the Heroes of Olympus series. Are you one of the best? We will see with this exciting quiz!!!!!!!!!!!!
Seriously, though, if you haven't heard of this ship, you have issues! Caleo are the best, apart from Percabeth and Frazel. LOLOLOLOLOLOLOL Amazing!!!
Created by: DoubleHeroicManatees of this site
(your link here more info)