~Warrior Cat Love Story!~ --[PART ONE]--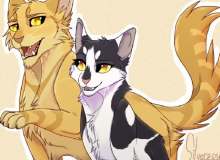 It's my first quiz, so please don't be too hard on me. This was something I really wanted to do for a while, but never knew what I would put. I'm making a story on Google Docs and Wattpad for this soon.
You are [Y/N], a kit born in ThunderClan. As you progress into being a Warrior, there's going to be some love drama, border disputes, battles, and, of course, a Prophecy that involves you!