Would you be a good musher?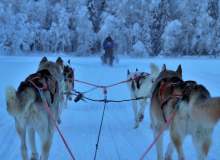 Being a musher is hard work. Most think it is cruel and pointless, but that is wrong. It is fun and a good way to exercise your doggies. Singing to Adele and racing my sisters is my fav activity.
Soo if you think that you know a lot about sledding, try this quiz. I'm not boastful, but i think its pretty good. Hopfully ya'll think so to. Have fun!
Created by: Fun9user9