Who's Your Forest Pet?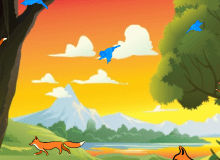 Want to know what's your wild pet? You will find out in this quiz or the "quest". You will fight in a battle with foxes and birds, and will have to go to mountains.
You will drink a strange type of liquid and will have to measure amount of water. Will you have a strong wolf, clever fox, calm rabbit, nutty squirrel, or powerful bear?