Who is your MHA boyfriend?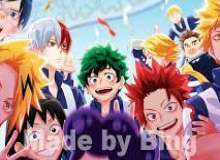 Wanna find out who your class 1-A boyfriend would be? Take this 14 question quiz to find out! I made this at like 2 am cause I was bored so sorry if it sucks lol.
Results include Kirishima, Bakugo, Kaminari, Iida, Deku, and Todoroki! Sorry if your favourite character isn't here! This results are based on what I think the MHA boys types would be.
Created by: Straw-_-Berry