Which Wings Of Fire Dragon Tribe Are You In?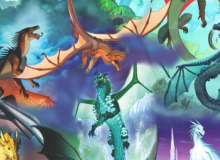 Have you ever wondered "What Wings of Fire 🔥 tribe do I fit in?" Well this very accurate quiz is just what you need! Take it from me, I am the Wings of Fire number one fan!
When I first read Wings of Fire, I was blown away with creativity, imagination and friendship. Not to mention a great story! I hope you enjoy this quiz! Check me out at wingsoffiregroupshareclub.wordpress.com! Thank you!