Which Warriors Character are you?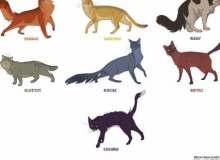 Do you know a series of books called Warriors written by a group of writers whose team were called Erin Hunter? If you have, this quiz will test out which character you are in the book.
You might be the brave Firestar, or the loyal Graystrip. Or you might be the fierce Tigherstar, or his apprentice Darkstrip. Who knows, it's all up to your choice!
Created by: Jasmine Clearwater