Which Undertale character are you?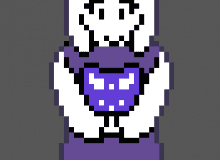 Hello, I just want to say hi and welcome to my first ever quiz! I really appreciate you clicking on this quiz, it really means a lot. Now go find out which Undertale character you are!!!!!
Also a little disclaimer before we start the quiz. I did not make Undertale and all rights goes to the creator, Toby Fox. Thanks so much for clicking on this quiz and enjoyy!
Created by: Anonymous