Which The Adventure Zone Character Are You?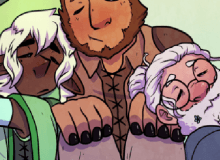 The Adventure Zone is a podcast run by the McElroy brothers following a group of wacky adventurers as they head out on their quest to collect several Grand Relics that threaten the very safety of the world as they know it. It is a story full of a wide range of interesting and relatable characters.
Have you ever wondered which one of those characters you might be? Well, now is your chance to find out! Take this in-depth quiz to find out which character you most closely resemble!