Which Spirit Riding Free character are you?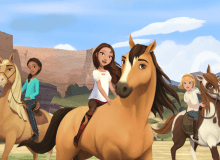 I love this show it's really great. I take quizzes all the time and decided to make one of my own. This one is just for fun to see which character you are most like.
Which character from Spirit Riding Free are you most like? Lucky? Maybe Pru or Abigail? Or Miss Flores, Aunt Cora, Mr Prescott. Or Turo, Julian, Maricela, or Snipps?