Which Soul Eater Character Loves You? (Girls Only!)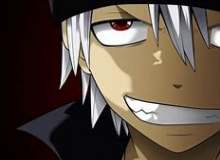 Hi! This is my first quiz so, please be nice about it! I love you all and hope you like your results! My friend Ariston wants to make one for boys, so I might. If I do, check it out!
Well, get going on the quiz! I don't have all day to make you happy! By the way if you get Soul Eater Evans, He's mine. So don't think he actually loves you, right Soul? Soul: Yeah. The creator is my girlfriend! Creator: Thank you Soul! Soul: You're welcome.