Which "Sailor Moon" Guardian Are You?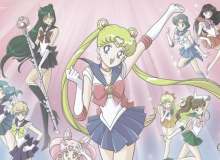 "Sailor Moon" is a very well-known manga and Japanese animated television series. The animated series aired from 1992 to 1997 and was based on the series of manga written by Naoko Takeuchi. The characters in "Sailor Moon" consist of several "Sailor Guardians" or "Sailor Senshi." These female superheroes each have their own differing personalities.
Are you curious as to which character you're most like? You've found the perfect quiz. Just answer the short, but sweet questions up ahead and submit your answers to view your result! Maybe you're the cute little Chibiusa or even Sailor Moon herself!
Created by: emy