Which of my Wings of Fire OCs are you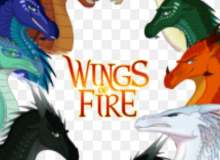 Have ever wondered what kind of dragon you would be in the WoF series. But do you lack ideas? Well this is the right place for you! You can also use the characters for something. I got these pictures from the internet so yeah.
In my quiz, you are a Dragonet of one of the tribes. There are seven possible results, and each tribe is included. There will be 14 questions in total. The results include personality, appearance and other things. This takes place about 100 years after the war so yeah! Have lots of fun and please comment and rate!
Created by: Forestflamy