Which Miraculous Hero are You?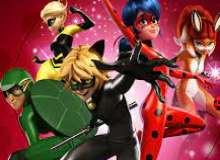 Yo I'm Abby Cat! Or just Abby for short. This is a quiz I have been wanting to make for a while now. I hope you enjoy the quiz! I love MIraculous A LOT so I figured I would make a quiz. UwU
The heroes you can get are the main heroes:Ladybug, Chat Noir, Carapace, Queen Bee (I know Chloe isn't the bee miraculous holder as of season 3 but whatever), and Rena Rouge!
Created by: Abby Cat