Which Mario Koopaling are you?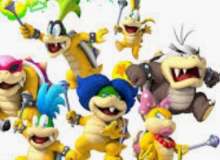 Which of the seven/eight Koopalings are you? This personality quiz will tell you who it is. They are obviously from the Super Mario franchise. You can get one of eight different results!
Possible characters that you can get, are. Lemmy, Larry, Morton Koopa Jr, Bowser Jr, Wendy, Roy, Iggy, or Ludwig! Who are you, find out in this quiz!!
Created by: savageguy21