Which Mane 6 character in MLP are you?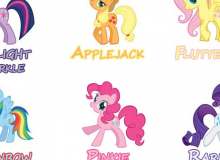 Hello there! I took time of to make this quiz I hope you like it. Note: I can't say you'll get what you expected to get, but have fun anyway! And another thing don't overthink things while doing a quiz.
This quiz is about to tell you which Mlp mane 6 character you are related to. Like in my which Mlp villain are you, I can't say you are actually related to this character but have fun! And remember don't over think things in other quizzes.
Created by: Magic Jewel