Which Kwami are you From Miraculous?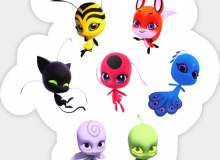 Are you wondering which kwami you are? Take this quiz to find out! It's all about which kwami you are! Have fun! Please don't get offended by your score. Here are some rules (not the emojis)... 🐞🥯 🐱🧀 🐢🥑 🦊🍝
Your choices are Tikki, Plagg, Wayzz, and Trixx. If you get a mix, you're a fusion! Have fun, do the quiz linked to this, and remember: THIS IS FOR FUN! It may or may not be real. Only choose the answers that are really YOU!!! For example, let's say out of the two, Tikki is your favorite. Don't choose the answers that sound like they could give you Tikki points, choose the answers that describe YOU. That way, your final score is surprising. Hope you love my quiz, and remember: Have fun!!
Created by: Miraculous_Tikki_fan of How well do you know Miraculous?
(your link here more info)