Which Harry Potter male student are you?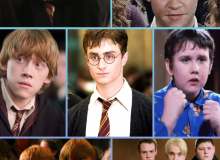 This is another "Which Harry Potter character are you?" but this time is "Which male Harry Potter student are you?". I included Harry, Ron, Draco, Neville, Fred, George, Seamus, Dean, Crabb and Goyle. I know there are more but I didn't wanted the quiz to be full of results and plus it already has 10 possible results.
10 questions to answer and each of your answers leads you to the result. You may not like it and I totally respect that. Please rate and comment! Have fun!
Created by: Severus Snape7