Which FNAF Night Guard are you?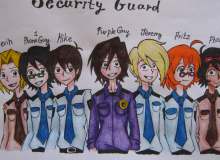 HELLO! This is my first quiz! So please don't be too harsh in the comments, plz!! So, *clears throat* have you ever wondered which night guard are you? This quiz will hopefully tell which one you are!
I hope you all enjoy! This quiz go's out to my friends cause they wanted me to make one, so here i am! The first couple times i did this quiz, i got Scott! Tell me what you guys get!
Created by: MangledTrap