Which FNaF 1 animatronic are you?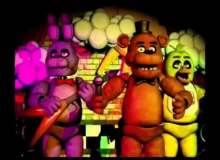 Oh, hi FNaF fan who found this quiz. I see you like the originals uh? I like them too! Well, that's normal cuz otherwise you wouldn't be here on this quiz. Anyways let's see which one you act like the most!
The results you can get are: Freddy Fazbear, Chica the Chicken, Bonnie the Bunny, Foxy the Pirate Fox and Golden Freddy. I tried to make it as accurate as I can.
Created by: Duda