Which Dragonet of Destiny dragon are you?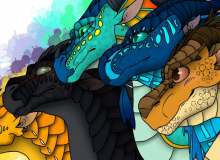 Hello, guys welcome back to another one of my quizzes! Today you will find out which Dragonet of Destiny you are! This took me about 30 minutes to make, so I hope you enjoyed It!
In total there are 5 results for each of the dragonets. Here are the results you can get Tsunami, Clay, Glory, Starflight, and Sunny! sorry If this Is a little short I was trying to leave some time for my other quizzes.