Which disney princess are you more LIKE??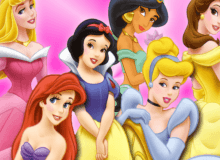 Ok..... Today you , yes , you will be seeing which disney princess you are !!!!!!!!!!But before we start I want to say something.... It won´t take long just a minute ....
WARNING: not all disney princesses are here only Mulan , Ariel, Cinderella,Merida,Snow White and last but not least Jasmine You might be wondering why I didn´t call the quiz ¨ who are you more like Mulan , Ariel, Cinderella , Merida ,Snow White or Jasmine , well there wasn´t enough space .
Created by: Lola