Which BNHA character are you of the two squads?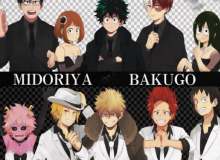 Well this quiz was supposed to be a quiz for people to know what BNHA Class 1-A character they are. But since there is not enough space for that,I only added Dekusquad and Bakusquad.
Be honest with yourself and answer this quiz truthfully,hope you will be satisfied with the answer you get. Also art is not mine,art credit goes to xion_1228.
Created by: A friend 4 :)