What Wings of Fire tribe are you from?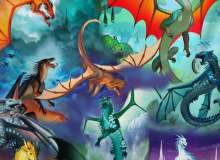 What tribe would you be born into if you were in the Wings of Fire universe? A cunning NightWing? A loyal MudWing? An honorable IceWing? A carefree RainWing? Take this quiz and find out!
DISCLAIMER! Obviously, this is not official. This quiz is for kicks and giggles. If you don't like your result, then that's fine! If the descriptions of the dragons don't match your personality, then that's fine!