what wings of fire of my ocs you are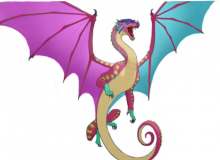 I forgot to say that, tera is animus, error's son's mother is a flamesilk, these dragons you can claim as "your". IMPORTANT: DO NOT insult me if i putted the name of my OCS identical as of your ocs.
My ocs have a continuing story, SO PLEASE if you dont like the quiz (that is my first quiz) please do not comment and rate. You can use them in every time or edit or even if you dont get the result.