What Warrior Cat rank are you?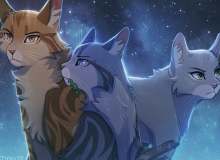 Hello, this is my first ever quiz! As you can tell I love warriors, I've been reading it since second grade! So yeah, I really hope you enjoy the quiz, sorry if it's cringe
In this quiz you will find out what Warrior cat rank is! Is it a Leader, Deputy, Medicine cat, App/Warrior, Queen, or Elder? You never know, not until you take the quiz!
Created by: Blackleg