What type of wing do you have?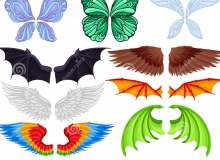 In this quiz, you will find out what hides beneath you. Your wings. You have four options you can have, deep inside. You may have dragon wings or butterfly wings.
You are also tested in what you would do for animals and stuff like that. Your wings are a gift, so don´t do what´s easy, but what´s right. It may be hard, but yours will tell you about your personality.
Created by: infinity dragon 101