What Sunny Day character are you?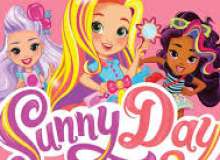 This quiz is about the Nickelodeon television series, Sunny Day. Its about a hairstylist named Sunny who fixes problems with her creativity and best friends.
In this quiz, you will find out which Sunny Day character you are. Are you creative Sunny? Cheerful Blair? Energetic Rox? Loyal Doodle? Just answer a few questions to find out.
Created by: Vampirina