What Sans Au are you?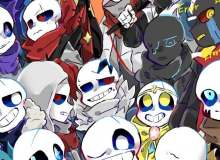 Well hello to my newer one. If you haven't tried any of my other ones please do. I need IDEAS!!!! HELP ME!!!!! What is something for me to do my next quiz on?
This is a Sans Au quiz that I hope you like. I seriously need more ideas. Try out my other quizzes. I NEED LIFE IN MY QUIZZES!!!! PLEASE!!! HELP ME!!!
Created by: Willowtailkit