What Oblivion Class Are You?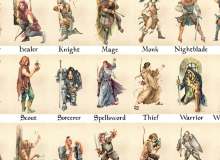 Have you ever wondered what Oblivion Class suits you best? Is it just too hard to decide what class too be? Are you just bored and can't find anything to do? Well here is the quiz for you!
This quiz takes the seven personality traits and puts them into a quiz. It has been done before, but it always seems weird to me. I created it based on those quizzes, but more professional. Correct spelling, scenarios, and no weird questions. Without further ado, let's begin.
Created by: Bolg Gamer