What Female Book Character Are You?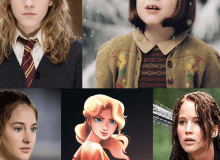 Hello everyone! This quiz is to find out which female book character you are. Whatever result you get, I hope you like it! And if it's not accurate or you don't like your result, remember it's just for fun. I hope you enjoy!
The possible results are Hermione Granger from Harry Potter, Katniss Everdeen from The Hunger Games, Annabeth Chase from Percy Jackson and the Olympians, Tris Prior from Divergent, and Lucy Pevensie from the Chronicles of Narnia.
Created by: katnisseverdeen1