What eeveelution are you?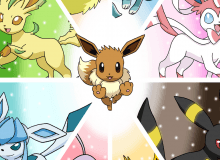 Do you ever wonder what eeveelution you are? Well you're in luck! Find out by doing this quiz. The personalities of each eeveelution is what i think they would be. So if you think that is not your personality but you think it's your eeveelution then well sorry about that.
If you like this quiz please share it with all your friends so that they can find out what eeveelution they are. Well good luck trying to get the eeveelution you want!
Created by: Alexis Larsen