What Dork Diaries Character Are You?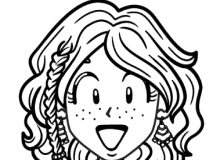 What dork diaries character are you? Nikki, Brianna, Mackenzie, Chloe, Zoey or Brandon? Take this quiz to find out! I hope you enjoy this as much as I enjoy the books.
Are you Nikki? Do you feel like Mackenzie? Take this quiz to see what you are truly like! Maybe you could start reading the books. Read Dork diaries today!
Created by: Madeline McQuade