What Does Bill Cipher Think Of You Gravity Falls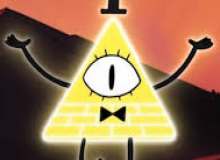 Hi everyone! I'm sorry I haven't made any quizzes in a while, but anyways, I saw some stuff on topic of Gravity Falls, and tried I don't know.. a LOT of quizzes on them, so I decided to make a quiz on Bill Cipher.
But what's YOUR opinion on him? I think he's delusional, not like I know EXACTLY what happened in Gravity Falls to be sure, because he thinks he can rule the UNIVERSE.... Ik, wth, so yeah, he's DELUSIONAL I say, but I didn't add a love result just because... idk..