Warriors- Which cat are you?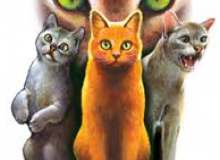 This is just a fun quiz to see which cat you are. It's not actually about finding who you are. That's ridiculous. No personality quiz could actually find out who you are.
We are all unique in different ways. No person is the same. Even twins! So don't think that if you get a panaroid cat you are panaroid. No! It's just a quiz.
Created by: Emberflight