Warrior Cats Love Story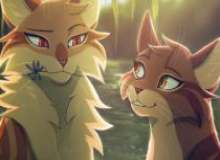 This is ANOTHER warrior cats love story! I know you probably see these all the time, but in all honesty, they are fun to make! I can see why so many exist. Heatherpaw, Ashpaw, Iguanapaw, and Sunnypaw are all here!
These are the cats to choose from. (Obviously there's a nobody option, but like- why are you playing if that's what you came here for??? Anyway, have fun and enjoy!
Created by: KindledsunTheTortie