Some odd situations in squash refereeing!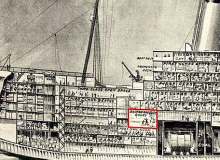 How well do you know the rules of squash? How good is your Squash Refereeing? Try your hand at this multiple choice quiz where only one of the answers is correct. (By the way, that's a drawing of the Titanic, complete with Squash Court!)
This quiz tests you on some of the odder things that can happen on the squash court. They wouldn't all happen in a single match, or even over a season bit they DO HAPPEN!
Created by: Lee Healy