Shopkins Chef Club; What character are you?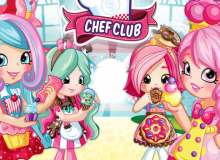 Hi. Im Bubbleisha, and Im a Shopkins Shoppie, and I live in Shopville with the other Shoppies and the Shopkins. This quiz is about the first ever Shopkins movie, Chef Club.
In this quiz, you will answer a few questions to find out which of six of the characters from Chef Club you are. Are you fun Apple Blossom? Fiery Bubbleisha? Shy Peppa-Mint? Just take this quiz to find out!
Created by: Bubbleisha