How well do you know Draco Malfoy?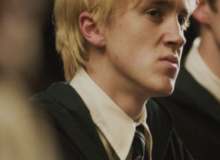 this quiz is basically about how much you know about the Harry Potter character Draco Malfoy! I hope you like this quiz that I made myself!!!!!!!!!!!!
to play this Draco Malfoy quiz, just simply press the start button, there will be a question and click the empty circle for the answer that you want to put! then when your finished check your score!!
Created by: melina