how well do u know haschak sisters?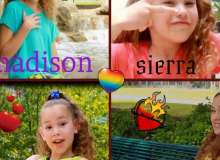 the haschak sister are a amazing music group for children that have a bunch of songs on cover like uptown funk,worth it,look what you made me do and a lot more
this quiz will let you see you average score from a 0-100 about how much you know these funny and popular sisters lets get started!!!!!!!!!!!!!!! 3 2 1 andddddddddddddddd action!!!!!!
Created by: the best