How much do you know about Wings Of Fire?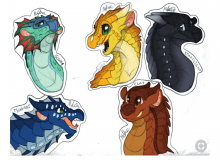 Do you like wings of fire? Have read every book back to back TWICE? Then this quiz is for you!Please ONLY do this test if you have read ALL the books! This includes several spoilers and quistions randomly throughout. Not only will it ruin the book series for you, but it will also give you an unclear score if you guess.
This test quiz has ten questions, with only ONE correct answer. Please try your best and don't cheat. You can use a reference, though don't spoil an answer for others. Please no hate, I worked very hard on this. Enjoy!
Created by: Misty the Rainwing