How Much Do You Know About Newsies: The Broadway Musical?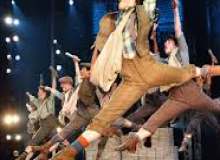 Are you a Newsies expert, or do you expect to get a less-than-great score? Hopefully you're confident, and hopefully the score will be decent! I wish you luck!
Based on how many times you have seen the musical, you will get a score between 0% and 100%. If you have not seen the musical more than two times, I'd advise watching it again before taking the quiz if you want to get a good score!
Created by: PoeDameron351