How much do you know about Chameleons?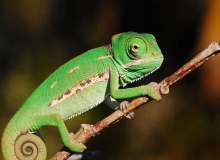 Chameleons are amazing creatures. They're very unique in terms of reptiles, as all reptiles are interesting in one way or another, but chameleons are just straight awesome.
With their rather quirky behavior and anatomy, chameleons have a lot of confusion and stereotypes surrounding them. This quiz might teach you a thing or two and remember: I am not a professional, and your results aren't likely to be super accurate.
Created by: Zephyrroi