Are you the sword , the shield , or the bow ?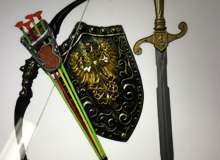 Hello, this is a quiz, well you. Know that... but please be honest.... and have fun! Please share this with your friends this was was hard to make! Uh.... Thanks?
Also have fun! I think I already said that 🤔... Sorry.... Also have you ever made a sword, shield, and bow quiz? Uh.... anyways please play this! Unless your already have and are just playing it a again.
Created by: Moonwatcher