Are You Smarter Than A Fifth Grader?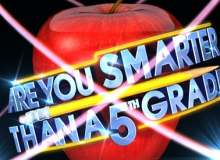 "Are You Smarter than a 5th Grader?" is an American quiz game show that aired on Fox. It is produced by Mark Burnett and is hosted by Jeff Foxworthy. This quiz was made entirely based on that show.
The following questions are easy for any person above a fifth grader - or so you might think. But are you actually smarter and sharper than a fifth grader? Take this quiz to find out.
Created by: Jeeshan