Are You Pretty According to Korean Beauty Standards?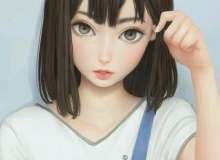 Ok so this is a quiz to find out if you're pretty according to Korean beauty standards, don't take this to seriously this is just a quiz so don't be sad you're pretty.
If you have low self esteem DON'T TAKE THIS QUIZ!!! [Don't be sad] if you do and took it then... Don't take this to heart that's a bad approach to things you should be happy for who you are!!