Are You More Like Mufasa Or Scar?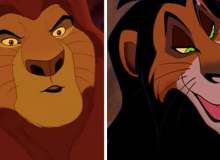 Welcome to my first quiz. This quiz will determine which of the two royal brothers from The Lion King you are, the brave and wise Mufasa, or the jealous and cunning Scar!
You must choose one of two options in each question to proceed to the next one and choose your answer wisely, you could be a brave hero or a monkey's uncle. Have fun!
Created by: Ethan Griffiths