Are You More Like Cats or Dogs?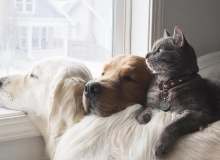 Hey there! Welcome to my quiz. Judging by your action of clicking this title, I assume that you either really like dogs or you really like cats- or maybe you're just here for fun!
Anyways, this quiz is a personality based approach on whether you are more like a cat or a dog. Answer the questions with thought and then awaits your result!
Created by: Spiderfell